Newly acquired biogas facilities
Convergen Energy owns and operates four biogas facilities in Latvia. These facilities produce biogas derived from the biological breakdown of organic matter. Biogas is produced by the anaerobic digestion or fermentation of biodegradable materials, typically crops grown specifically for energy production and various types of organic waste. The biogas is utilized in combustion engines to generate electricity that is sold to the grid. Thus, biogas production contributes to the Green Economy, as well as the agricultural and waste recycling industries.
The biogas facilities are located near Jelgava (Zemgali JR, 600 kW), Nica (Piejura Energyand Vegi Eco, 2 MW), and Cesvaine (Ecozeta, 1.4 MW). Each facility utilizes local bio-energy crops, agricultural animal wastes, and other industrial organic by-products in the digesters to produce methane. Digestate residuals are applied to local farm fields as a fertilizer for soil enhancement. Electricity produced by each plant is sold to the national grid. Residual heat from the Piejura Energy facility is purchased by a local industry to provide process and building heat.
We believe that the biomass and biogas market will continue to offer opportunities and we are maintaining our growth in this sector through development and acquisitions across Europe.
 The biogas production system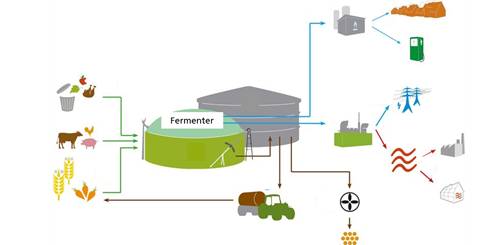 PARTNERSHIPS IN POWER INVESTMENT
Get in touch to discuss how we could work together on renewable energy investment solutions.
Contact us:

Email: